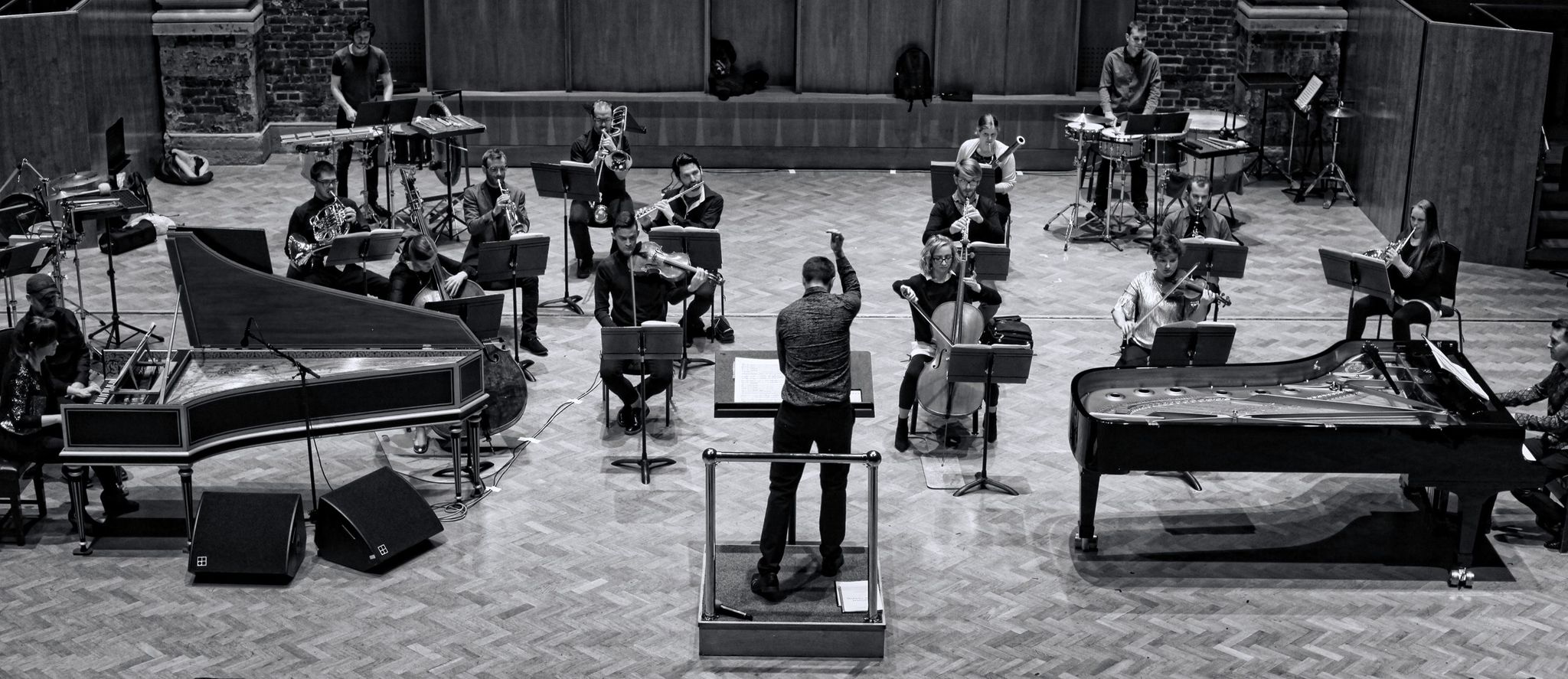 Biography
Ernst von Siemens Foundation Ensemble Prize winners, Riot Ensemble connects people to great contemporary music in concerts and events that are just as innovative, vibrant and rewarding as the music itself. The members of Riot are some of the top European soloists in new music, and with Riot they work as performers, curators, commissioners, and collaborators, creating and producing a diverse array of projects.
Based in London, Riot is particularly active in bringing emerging international voices to the British new-music scene and since 2012 has given over 200 World and UK premieres by composers from more than thirty countries. Their annual call for scores received 436 submissions in 2020, and in the past 6 years has resulted in almost twenty commissions. Additionally, they enjoy close working relationships with some of the most important composers of our time, including Clara Iannotta, Chaya Czernowin, Ann Cleare, and Georg Friedrich Haas whose evening length piece Solstices was commissioned by Riot in 2019.
Riot performs regularly at Huddersfield Contemporary Music Festival (UK) as well as Dark Music Days (Iceland), Tampere Biennale (Finland), Nordic Music Days (Sweden), and November Music (Netherlands) with upcoming appearances scheduled at Darmstadt (Germany), Wien Modern (Austria), ENSEMS (Spain), Arctic Arts (Norway) and Tzlil Meudcan (Israel). In 2020, they began a new partnership with King's Place where they present their ReNEW series, focusing on bringing the most cutting edge international new music to London.
Their recent release on Huddersfield Contemporary Records, Speak Be Silent, was named one of the ten most important recordings of the year by Alex Ross in the New Yorker, and has been praised as 'one of the best recordings of 2019' by Sequenza 21 and 'a most impressive release' by Australia's Limelight magazine. They have also recently released a disc featuring Jonathan Harvey's Song Offerings, recorded at Deutschlandfunk in Köln and are currently working on a new release of Patricia Alessandrini's chamber music for HCR. Riot features regularly on BBC Radio 3 and enjoys radio broadcasts across Europe.
Their work has been generously supported by Opus 2 International and Arts Council England lottery grants, alongside numerous private sponsors, PRSF, Diaphonique, the Ambache Charitable Trust, the RVW Trust, and the Holst Foundation.
All sessions by Riot Ensemble (UK)