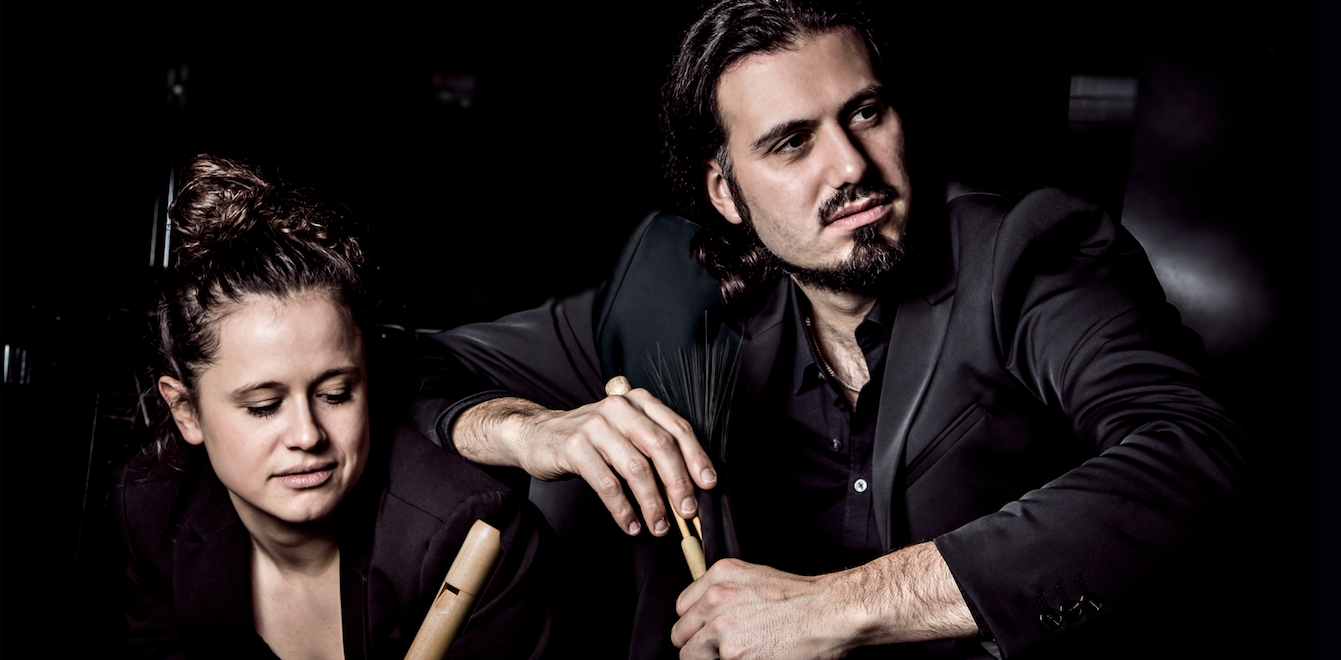 Duo Enssle-Lamprecht (AT)
info@enssle-lamprecht.com
Biography
Virtuoso, unconventional, and full of the joy of playing – this is how Anne-Suse Enßle (recorder) and Philipp Lamprecht (percussion) present themselves to their audience. With a seemingly inexhaustible instrumentarium made up of diverse flutes and percussion instruments, they forge a bridge between the end points of our listening habits, between the music of the Middle Ages and new and experimental music. This connection has numerous inspiring points of contact that spur on the ensemble's creativity time and again, and leaves behind an enthusiastic audience.
In its interpretations of medieval music, the duo explores the distinctive features of the early flute and percussion instruments. Anne-Suse Enßle and Philipp Lamprecht delve into the secular as well as the sacred music of the Middle Ages, employing instruments such as tabor, tamburello, nakers, Romanic bronze bells, medieval castanets, and various flutes. Since 2014 the duo has additionally occupied itself with a large-scale special project involving the complete works of the "Monk of Salzburg" (14th century), which will be performed over several years in the Salzburg area and enhanced by contemporary artists.
The special attraction of the duo, which was founded in 2008 in Salzburg, lies in its uncommon formation as well as in the resulting unusual concert programs, which feature music from off the beaten track of the known repertoire. The musicians are continually commissioning new works and collaborating with composers and other artists. As a result of this, numerous purely musical compositions have come about in addition to the incidental music, composed and improvised by the two musicians, to Tankred Dorst's play Parzival (performances in Salzburg in 2011), and music for digital image sequences.
All these creations reflect in their own way the possibilities of this extraordinary sonority. The ensemble's first CD, Points of Contact, was issued by unimozarteum in November 2010. It contains, among other things, four first recordings of contemporary works for this formation.
In 2013 the CD JeuX appeared on the sumtone label. To be heard on it are the newest works of the young Austrian composers Marco Döttlinger and Jürgen Neuhofer. The production was made possible by a generous grant from the Austrian Federal Chancellery, Office of Art and Culture.
Audax records issued the latest CD of the ensemble, TESSERAE. On this recording Enßle-Lamprecht present a variety of medieval music with their rich instrumental possibitlities. The CD was nominated in the category Early Music for the International Music Awards 2018.
BR-Klassik Interview
Podium Esslingen – Kadenz für Vibraphon, Glockenspiel und Tape von Arash Safaian 
All sessions by Duo Enssle-Lamprecht (AT)